THE BARNET – July Edition: Fab Fringes & Festival Hairspiration
Posted On: 2017-07-18 14:16:06 ; Read: 1962 time(s)
Hello long haired beauties! Welcome back to THE BARNET from Lush Hair Extensions. When we're not connecting you with stunning new wefts perfect for your hair, we're rounding up our very favourite seasonal hairspirations, from blogs and videos, to tweets and pictures.
In this month's roundup, try three sweat-proof summer updos that will keep you looking and feeling cool even when the world seems to be melting. We'll also be ogling Keiko Lynn's fringe and sharing some festival season hairspiration. Let's get stuck in!
3 Sweat-Proof Summer Hairstyles
Whether you're hitting the gym in the middle or summer, or simply trying to survive a commute in the middle of July without looking like a drenched cavewoman on arrival, choosing a cooling hairstyle which won't absorb sweat or get plastered to your forehead will make a world of difference.
By keeping your hair off your neck and away from your face, you can improve air circulation on scorching days and maintain a stylish look which won't become hopelessly frazzled the moment you leave the house. Shared via the excellent resource that is HairCutWeb, these three sweat-proof hairstyle tutorials from the fabulous Stella Cini will keep you both feeling and looking cool all summer.
Get Keiko Lynn's Beautiful Fringe
We don't want to come off creepy, but we're a little bit obsessed with Keiko Lynn's just plain ravishing bangs. Fortunately, it seems that all of her other fans are too. To "give the people what they want" Keiko has uploaded a quick tutorial on how she achieves her flawless, signature fringe (and it takes way less effort than you might think!).
Festival Season #hiargoals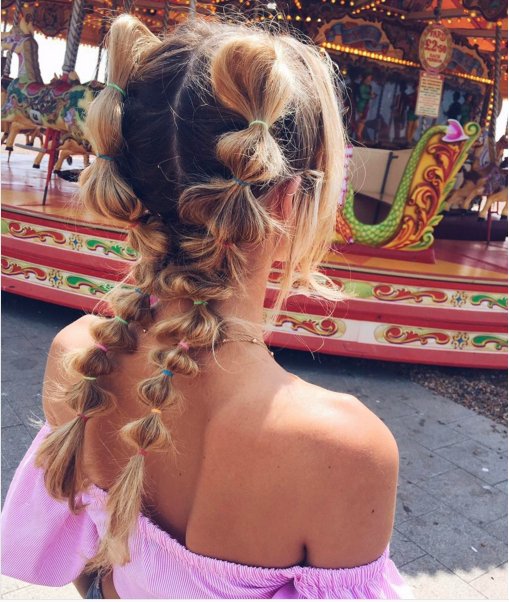 Looking for an out-of-the-ordinary fantasy-fun hair look for festival season. This snap shared by River Island is absolutely, 100% festival #hairgoals. Know how to create this look? Share your pointers with us in the comments section.
More Festival Hairspiration
Don't love River Island's festival #hairgoals? Why not take a peek at Sketchbook Six's favourite festival hairstyles? The site may be in Portuguese, but the looks are cool enough to transcend language barriers, featuring double "samurai buns", boxer braids and fishtail plaits. Which is your favourite look?
What's your go-to hot weather hairdo? How long does it take to style your bangs? What's your favourite festival hair look? Get chatting below!
No Comments Found!